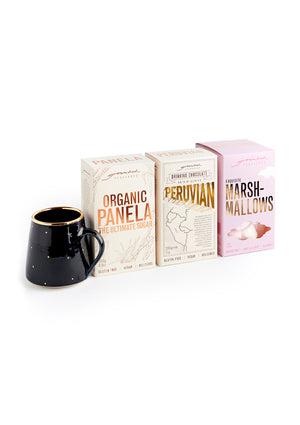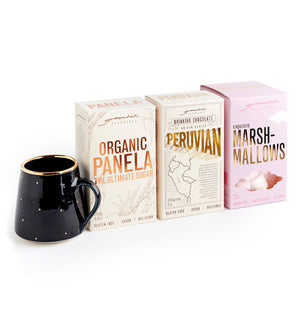 BLACK AND GOLD GIFT BOX
Ruby Pilven is a Ballarat ceramic artist who creates brilliantly coloured porcelain ceramics. Having grown up with ceramic artists for parents, Ruby has been involved in the ceramic arts world all her life. Ruby uses metallic 12 carat gold highlights on these beautiful, handmade mugs. 
We have been huge fan's of Ruby's work for years now, which is clearly evident to those of you that have been to our home or warehouse. Ruby has a clear, unique style that we just adore. These beautiful mugs are handmade by Ruby and we have two different gift boxes including her black and pink mug.
You can find more information about Ruby and her ceramic process at https://www.rubypilven.com/ and we highly recommend visiting her beautiful space - she has one or two open days every year. 
This gift box contains:
Ruby Pilven handmade black and gold mug
Grounded Pleasures Marshmallows
Grounded Pleasures Organic Panela

Grounded Pleasures Peruvian Drinking Chocolate
All products are presented in a Grounded Pleasures gift box, wrapped in tissue paper with a sticker. We have also included a 'how to make the perfect drinking chocolate card' as well as a Grounded Pleasures card with a blank back so you can personalise your gift with a message. We are also happy to send this directly (Australia wide) as a gift, just supply the shipping address during your checkout process.