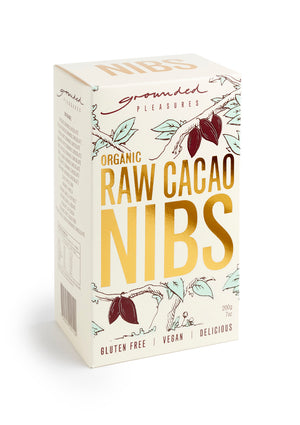 ORGANIC RAW CACAO NIBS
Our Organic Raw Cacao Nibs are sourced from Ecuador, where growers produce some of the world's finest cocoa. We are privileged to bring you some rare heirloom 'Nacional Cacao', which has lovely fruity notes and unique smoothness. These characteristics are even more remarkable, given that they are raw, unroasted cacao beans. Our flavoursome Organic Raw Cacao Nibs retain all their health benefits and are utterly delicious.
Our Organic Raw Cacao Nibs can be used in any recipe as a decadent healthy alternative to chocolate chips or added to many desserts. Great to use in smoothies, on top of your breakfast, or just eat them by themselves as a delicious and wholesome chocolate hit.
Find delicious recipes here.

Gluten free. Vegan. Delicious.