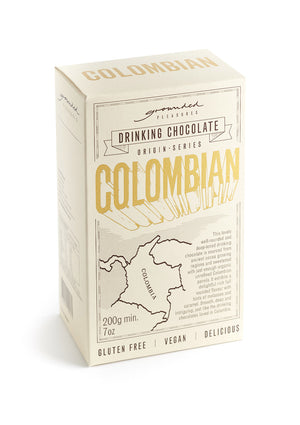 COLOMBIAN ORIGIN SERIES
We are so excited to introduce our brand new Origin Drinking Chocolate, The Colombian. This lovely well-rounded and deep-toned drinking chocolate is sourced from ancient cocoa growing regions and sweetened with just enough organic unrefined Colombian panela. It exhibits a delightful rich full rounded flavour with hints of molasses and caramel. Smooth, deep and intriguing, just like the drinking chocolates loved in Colombia.
The quality cocoa beans together with minimum processing, means it has very high levels of antioxidants and flavonoids. These are the great "health giving" properties of fine chocolate. Good cocoa is complex (like good wine and coffee).

Gluten free. Vegan. Delicious.