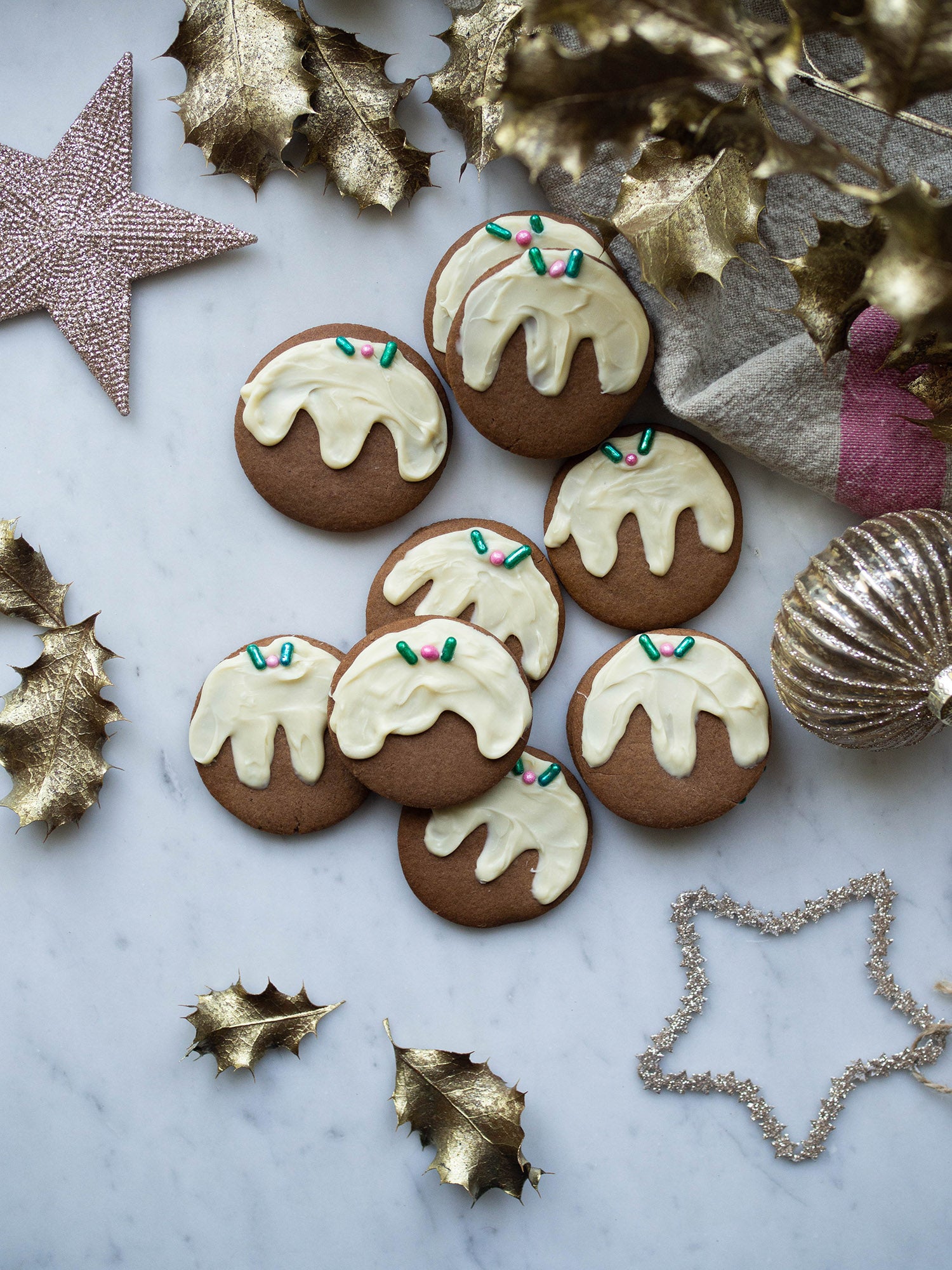 Ingredients.
125g unsalted butter, softened
120g dark brown sugar
170ml golden syrup
1 egg yolk
380g plain flour
1 tsp bicarbonate of soda
Ingredients for Decoration.
200g white chocolate
Round pink sprinkles or decorative cachous
Long green sprinkles or decorative cachous
Method.
Preheat oven to 160 degrees Celsius. Line three large baking trays with baking paper.
In a medium bowl add the flour, then sift in the cocoa powder and bicarb soda. Whisk together and set aside.
Using a stand mixer with the paddle attachment, beat the butter and sugar until it is pale and creamy. Add the golden syrup and egg yolk and beat until combined.
Add the flour and cocoa mixture and combine on very low speed for a few seconds. Remove the bowl from the stand mixer and finish the remaining mixing using a large wooden spoon or spatula. 
Turn onto a lightly floured surface and briefly knead until smooth. Press dough into a disc. Cover with plastic wrap and place in the fridge for at least 30 minutes to rest.
Once the dough has rested, remove from the fridge and dust your work surface with some flour. Roll the dough out to around 2 mm thickness and cut cookies out using a round 5.5-6cm biscuit or scone cutter.
Place each biscuit on to the prepared trays. Make sure you leave space in between each cookie as they will expand as they bake. Re-roll excess dough and cut out more cookies until it is all used up.
Bake for around 10-12 mins, rotating the trays in the oven to ensure everything cooks evenly. When the cookies are done the edges will begin to turn golden. Allow to cool completely on wire racks or on the their trays.
When ready to decorate the cookies, melt the white chocolate either over a bain-marie on the stove or in the microwave.
Have a piping bag or zip lock back ready. Once the chocolate has melted, continue to stir to allow it to cool a little.
Have your decorative sprinkles or cachous ready and a palette knife or flat bladed knife as well.
Tip the melted chocolate into the prepared piping bag, and snip a small amount of the end off.
Pipe an outline around the top of each cookie, stopping halfway down to create the outline of custard dripping from a Christmas pudding, meeting up with the outline where you started.
Fill in the piped outline and smooth out the chocolate to fill in any gaps. Top with a pink sprinkle/cachou on the very top of the cookie where the chocolate is, and place a green sprinkle/cachou on either side so it looks like a holly berry with leaves.
Repeat for each cookie, working quickly as the chocolate will become less viscous as it cools further. If there is no metal in your piping bag, you can briefly place it in the microwave to re-melt the chocolate if it becomes difficult to pipe and smooth out.
Allow the chocolate to set completely at room temperature, before storing in an airtight container.
Makes about 36-38 medium sized cookies (yield will depend in the size and shape of your biscuit cutters).  Will keep for about a week in an airtight container.