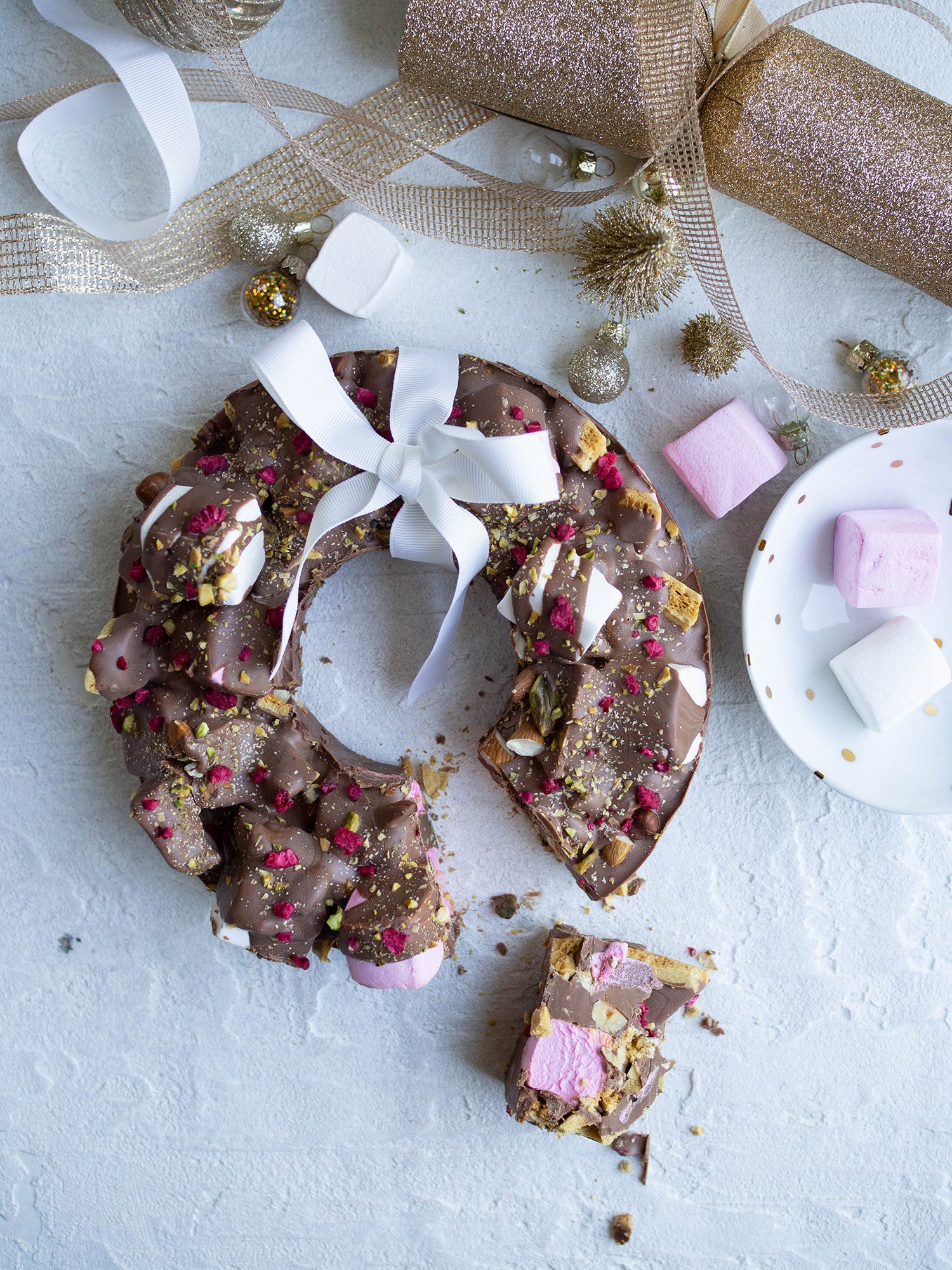 Ingredients.
4g bicarb soda
250g caster sugar
45g golden syrup
25ml water
25g hazelnuts
25g almonds (raw or blanched)
25g raw shelled pistachios + 1tsp finely chopped pistachios
500g good quality milk or dark chocolate
1tsp crushed freeze dried raspberries
cooking spray
Directions.
Start by making the honeycomb, and line a 25 x 18cm (approx) baking tin with baking paper. 
Add the sugar, golden syrup and water into a medium saucepan. Place over high heat, and stir until it all starts to come together and the sugar begins to melt. 
Then stop stirring, and allow to bubble away until it reaches 150 degrees Celsius on a candy thermometer. 
Once this temperature has been reached, quickly whisk in the bicarb soda then tip into the prepared tray.
Leave to cool for about an hour. Then break up into shards, and set aside 100g for the rocky road. 
Pre-heat oven to 160 degrees Celsius and line two small trays with baking paper. Place the almonds and pistachios on one, and the hazelnuts on the other.
Bake for five minutes, then remove from the oven. Tip the hazelnuts into an old tea towel and rub together to remove as much of the hazelnut skins as possible. Roughly chop the nuts, leaving some of the smaller ones whole. 
To create the wreath shape, use a 20cm (1-1.3L capacity approx.) straight sided Savarin mould and generously grease the tin with cooking spray. 
Place a small saucepan about 1/4 filled with water over medium heat and bring to a simmer. Using a larger saucepan or heatproof bowl, add 300g of the chocolate and place over the simmering pot of water. 
Melt over the heat, stirring fairly consistently until the temperature reaches between 40 and 50 degrees Celsius on a chocolate thermometer. 
Remove from the heat and continue to stir, gradually adding in the remaining 200g of chocolate a bit at a time. Make sure all the additional chocolate has been added by the time 34 degrees Celsius is reached on your chocolate thermometer, then continue to stir the chocolate until 32 degrees Celsius is reached. Your chocolate is now ready to use, and should have thickened slightly and be glossy. 
Scatter half the honeycomb and nuts into the prepared tin, and then add a third of the Grounded Pleasures Marshmallows. Evenly cover with 1/2-1/3 of the melted chocolate, then top with the remaining honeycomb, nuts, and another 1/3 of the marshmallows. Pour over more of the chocolate, leaving a little in the saucepan. Add the remaining marshmallows, and top with the remaining chocolate. Finish by sprinkling over the finely chopped pistachios and crushed freeze dried raspberries. 
Leave to set for a couple of hours at room temperature - if good quality chocolate is placed in the fridge it may bloom which will produce white marks over the chocolate. It will still taste great, and if you are making this on a cooler day or in air conditioning there should be no need to place the rocky road in the fridge. 
Once the rocky road has set, very gently run a palette knife/spatula or thin knife around the edge of the rocky road to separate it from the sides of the tin. Do the same around the middle. 
Over a chopping board or plate, tip the tin upside down and gently shake the rocky road out of the tin. It may feel like it won't come out at first, but if you've sprayed your tin with the cooking spray it will come out, just keep trying to wiggle it out and it will eventually come out if the tin. 
Turn the rocky road back to being top side up, and re-scatter over any pistachios or raspberries that have come off whilst it was being removed from the tin. 
Serve with a small sharp knife so people can cut their own, and any leftovers can be stored in a airtight container at room temperature for a couple of weeks. 
*Recipe Notes:
- The honeycomb will make about 260g, and any leftovers can be stored in an airtight container for a couple of weeks. You could of course use 100g of bought honeycomb for this recipe in place of making it yourself. 
- If you are using good quality chocolate with a high cocoa butter content, I highly recommend using a chocolate thermometer to get the best results. If you are using a baking style chocolate you should be able to melt all the chocolate in one go according to packet instructions. 
- Chocolate is best stored and tempered in an environment between 15 and 20 degrees Celsius - keep this in mind when you are making the rocky road, as warmer days may hinder the look of the chocolate after tempering. Similar to keeping it in the fridge, warmer weather may cause visual imperfections on your set chocolate, it will still taste great!