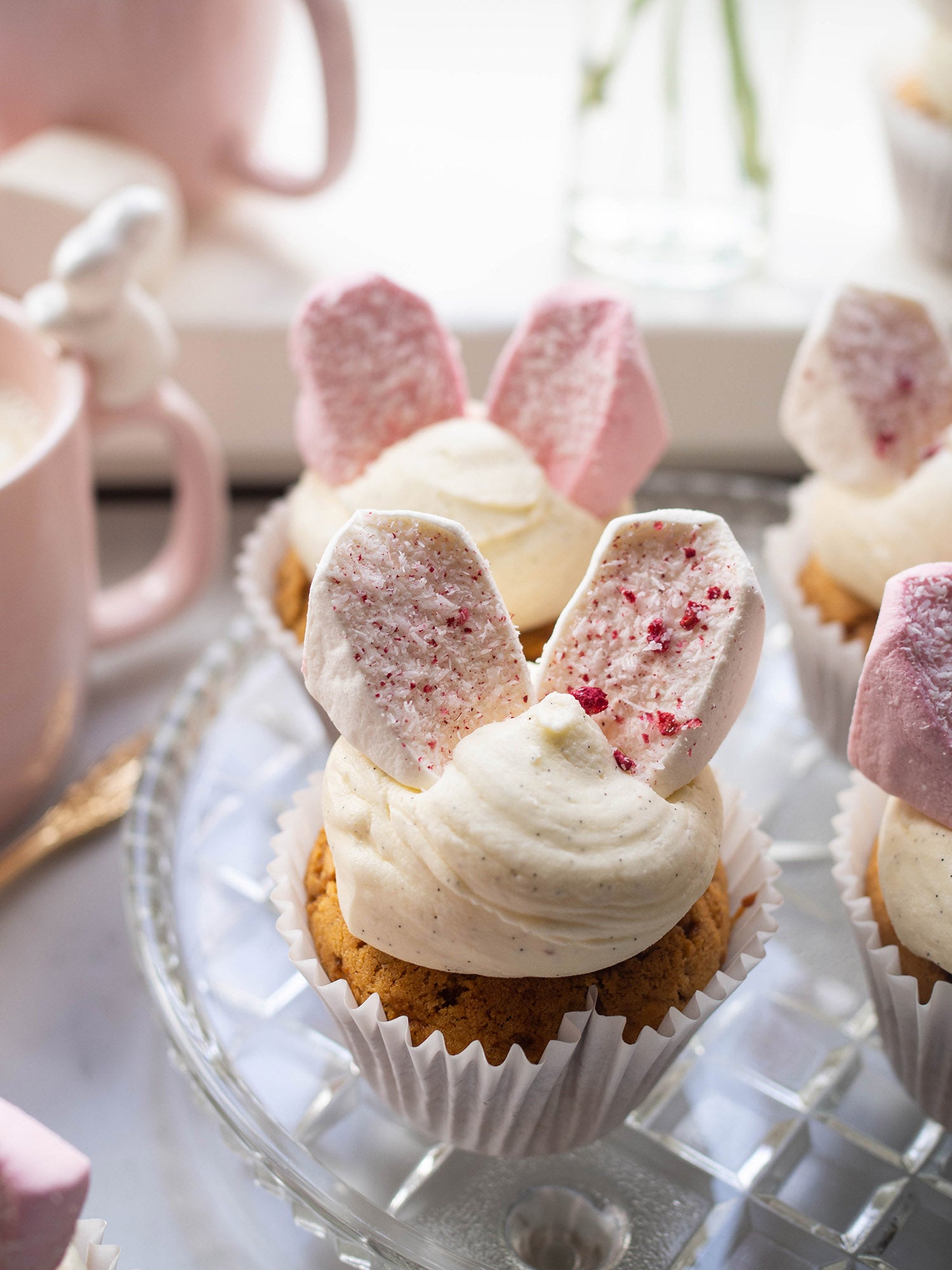 Ingredients.
125g unsalted butter, softened
155g Grounded Pleasures Panela
1 tsp Grounded Pleasures Vanilla Extract
1 Grounded Pleasures Vanilla Beans, seeds scraped
2 eggs
250g self-rising flour
105ml milk
 Ingredients for the Icing.
150g unsalted butter, at room temp
1 Grounded Pleasures Vanilla Beans, seeds scraped
190g icing sugar (confectioners)
2 tbsp Grounded Pleasures Real White Drinking Chocolate
165g white chocolate, melted
12 Grounded Pleasures Marshmallows (6 white and 6 pink)
4 tbsp desiccated coconut
1/4 tsp crushed or powdered freeze dried raspberry/strawberry
Directions.
Pre-heat oven to 160 degrees Celsius, and line a 12-hole cupcake tray with cupcake cases. In the bowl of an electric mixer, beat the butter, panela sugar and vanillas until light and fluffy. Beat in the eggs one at a time, then add the flour and the milk and slowly mix until combined. Spoon the mixture evenly amongst the cupcake cases, filling so the cases are about 1/2 full. Bake for 20 minutes, or until a skewer comes out clean and the cakes spring back to the touch. Remove the cupcakes from the tray and allow to cool on a wire rack.
To make the icing, beat the butter with the vanilla bean seeds using a stand mixer and the whisk attachment for 1-2 minutes, or until it is pale and creamy. Add in the icing sugar and sift in the white chocolate powder (discard anything that won't go through the sieve) and beat for another 1-2 minutes or until the icing is fluffy. Add the melted white chocolate (make sure the chocolate has cooled a little or the butter will melt!) and beat until combined.
Using a piping bag or zip lock bag with a hole cut in the corner, pipe icing on each cupcake so they have a decent dome of icing each. Cut each of the marshmallows diagonally, so each half looks like a triangle side on. Place 2 tbsp of the desiccated coconut into a small bowl and dip the cut side of each pink marshmallow in the coconut. Place the remaining desiccated coconut into another small bowl, add the freeze dried raspberry or strawberry and mix together. Then dip the cut sides of the white marshmallows in this coconut mixture. Place two marshmallow halves on the top of the buttercream dome on each cupcake, with the cut side facing the front, to make them look like bunny ears.
Makes 12 cupcakes.