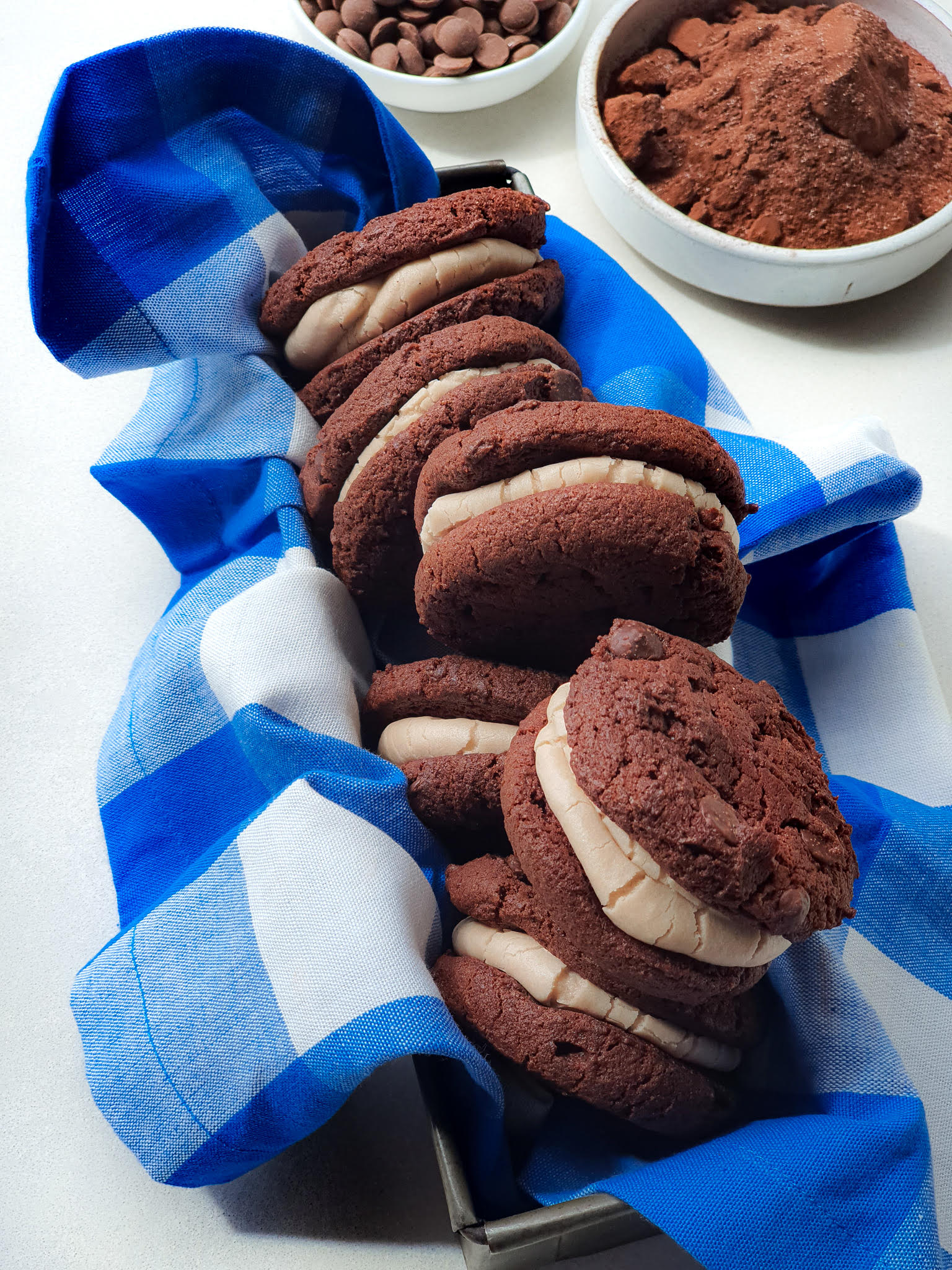 Ingredients.
500g Unsalted Butter, at room temperature
400g Caster Sugar
300g Brown Sugar
2 Large eggs, at room temperature
2 Large eggs yolks, at room temperature
440g all-purpose flour
2tsp baking soda
1 tsp fine instant coffee or espresso powder
3 tbsp chocolate buds
Cream Cheese Filling
115g Cream Cheese, at room temperature
200g tbsp butter, softened
500g Icing sugar, sifted
Directions.
To make the sandwich cookies, Preheat the oven to 180°c. Line three baking trays with parchment paper.
In a large mixing bowl, cream together the butter, granulated sugar, and brown sugar, until light and fluffy, 2-3 minutes. Add the egg and the egg yolk and mix well to combine. Scrape down the edges of the bowl to ensure it is fully incorporated.
In a medium bowl, whisk together the flour, grounded pleasures drinking chocolate, salt, baking soda, and coffee or espresso powder. Add the flour ingredients to the butter ingredients and mix together on low speed until incorporated. Scrape down the bowl and mix again briefly to ensure the mixture is even. Stir through chocolate buds.
Using a cookie scoop or a spoon, scoop 2 Tbsp (30g roughly) balls of cookie dough. Roll each into a ball using your hands, and place on the baking sheet, pressing down lightly to form a disc shape. Spread about 8 dough balls evenly on your baking sheet.
Bake the cookies for 12 to 13 minutes, until set around the edges and puffy. Remove from the oven and tap the baking sheet sharply onto the counter, to help the cookies deflate. Use a cookie cutter slightly larger than the cookie to scoot any mis-shaped cookies back into a circle. Allow to cool on the pan for 15 minutes then remove and allow to cool completely on a wire rack.
Repeat the scooping, rolling, and baking process with the remainder of the cookies.
Store cookies in an airtight container until ready to use.
To make the cream cheese filling, beat the cream cheese, butter and vanilla extract in small mixing bowl on medium speed until fluffy. Gradually beat in powdered sugar until light and fluffy.
Scoop out some icing onto a cookie. Take another cookie and gently press down icing, making a cookie sandwich.
Refrigerate cookie sandwiches for 20-30 minutes before enjoying. Store leftover cookies in the refrigerator.