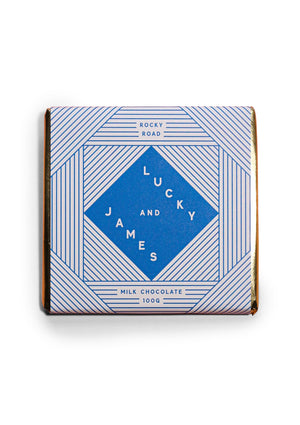 ROCKY ROAD MILK CHOCOLATE BY LUCKY AND JAMES
An old favourite with a twist. This intense and deliciously smooth milk chocolate bar has our exquisite Ballarat marshmallows sprinkled throughout. An indulgent blend which is superbly finished by the addition of toasted almonds and delightfully tart dried cherries which make the most balanced and satisfying rocky road we have ever tried (and that would be a fair few).
Click through to our journal to read all about local chocolate artisan, Jade Davidson of Lucky and James.
https://groundedpleasures.com.au/blogs/journal/lucky-and-james

Ingredients: Milk chocolate 38% solids (sugar, skimmed milk powder, cocoa butter, cocoa mass, emulsifier E322 soya lecithin, malt extract powder, vanilla), marshmallow (sugar, glucose syrup, invert syrup, water, gelatine, natural raspberry & natural vanilla, natural colour, corn starch), dried cherries, almonds.
Contains dairy, nuts and soy.